Office Cleaning Tips and Guidelines
Most of the time we use it in our work activities, so it is essential to maintain a correct cleaning of offices so that we are comfortable in our workplace.
The hygiene and cleanliness conditions of work centers are vital to achieving optimal health conditions and guaranteeing the safety of all employees.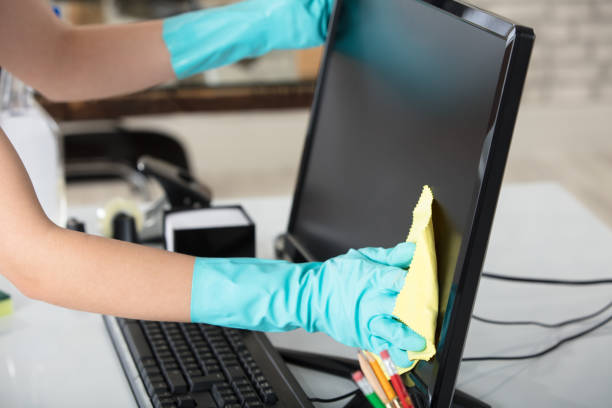 To improve the performance of workers, it is necessary to pay attention to the organization of the space. The key to achieving worker comfort is proper hygiene that helps improve their productivity.
Guidelines for cleaning a workplace
To carry out the cleaning and sanitizing of a workplace, we must follow a series of fundamental guidelines, among which we highlight:
empty the bins
The first step will be to get rid of the waste that is in the bins and takes out the garbage that the workers have deposited in them during the day.
Before replacing the bags, we will carry the relevant cleaning of the containers out with a suitable detergent or product for disinfection.
Dust furniture
To eliminate dust particles, it is advisable to use a specific product to trap them, preventing the dust from being distributed to the rest of the room.
Melamine cabinets and other resistant and non-absorbent materials must be taken into account, using products diluted in water and applying it with a microfiber cloth.
Office window cleaning
To clean windows and glazed areas, it is advisable to use products stipulated for this function and keep the glass clean for longer.
Attention should be paid to the removal of fingerprints that appear easily on these surfaces. Other points to take into account when cleaning are the switches and cranks.
Remove dirt from floors
Depending on the material from which the flooring is made, the most suitable products will be chosen. First of all, we will remove dust and dirt with a mop, preferably microfiber, since they have antibacterial principles.
Subsequently, the floors will be scrubbed to remove stains and make them shine like the first day.
Phone disinfection
Another factor of great importance in office cleaning is disinfecting telephones, which are used by numerous people, is held in the hands and are brought close to the mouth, so their use can contribute to the spread of diseases.
Cleaning of computer equipment
To clean computers, screens, printers, and other peripherals, always use a microfiber cloth slightly moistened with a soapy product with a neutral PH to avoid damaging any device and interfering with office work.
It is recommended not to use abrasive products such as aluminum scouring pads, or powder detergents that can scratch or damage the screens and other computer equipment.
You also have to be very careful with the way in which you clean computers, since when you pass the cloth, you can accidentally activate a key or switch that can start the equipment.
In any case, it is always better to disconnect computer equipment from the network beforehand, and in the case of laptops, remove the battery beforehand to clean it.
Cleaning of toilets in work centers
The toilets also need a daily review in the cleaning of work centers,  as they are frequented by different users, which makes it necessary to take extreme disinfection, to avoid health problems since these spaces are where a higher incidence of germs are concentrated.
office cleaning
It is an area where many employees travel daily. It is a place of recreation and rest for breakfast or lunch. For this reason, it is vital to clean it thoroughly; knobs, coffee machines, tables, and chairs.
Most employees touch all surfaces, so disinfecting the area is essential to prevent any virus transmission.
Other issues to consider when cleaning offices
For office cleaning, it is essential to have several cleaning shifts to ensure that the facilities maintain the best cleanliness and hygiene conditions at all times.
In this type of large space, it is very important to carry out maintenance and cleaning of ventilation and air conditioning ducts when it comes to centralized air conditioning services.
Any possibility of the formation of bacteria and other microorganisms inside the facilities must be eliminated and they end up spreading throughout all the floors of the building, causing illnesses among workers and visitors.
Cleaning company in Sydney 
The best option for the workplace cleaning process is always to hire a serious company with extensive experience in the sector, which will perform this service professionally.
At SCS Group Integrated Services, a cleaning company in Sydney, we adapt to the schedules so as not to interfere with performing your workers.
We have highly qualified professionals and use the most advanced technology on the market to achieve the best results.
As a cleaning company, we are aware of the importance of carrying out optimal sanitation of workspaces, using the most appropriate products, and guaranteeing the relevant hygiene conditions while respecting the environment and people's health.
If you need cleaning services in Sydney, do not hesitate to put yourself in the hands of SCS Group Integrated Services, professionals with more than 15 years of experience. Our contact email is info@scsgroup.com.au. You can also call us on the phone: 1300 66 46 47